I got the exciting news Friday that Spring Storms Colorado Style has been accepted into the upcoming Boulder Digital Arts "Creative Digital Photography" Art Show!
Please join me for the opening of my first ever Art Show exhibition. (more…)
---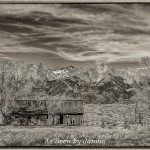 Mount Blanca is another surprise attraction I encountered while waiting for ideal lighting to photograph Great Sand Dunes National Park. After shooting at Zapata Falls, I headed into Blanca, the nearest town, somewhat annoyed that I had to go out of my way to fill my gas tank. My annoyance turned quickly to appreciation as I spotted this scene!
Photographing Mount Blanca, the fourth highest peak in the Rocky Mountains, was exciting already but what really thrilled me about this scene was the old barn in the foreground. That barn, surrounded by still bare trees, with the majestic Sierra Blanca Massif formations setting the backdrop were all perfect elements for a black and white landscape! (more…)
---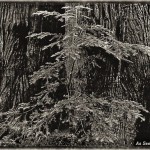 One of the coolest things I've ever photographed was shot in 1993 on Cortez Island, British Columbia, a tiny island about half-way up the east coast of Vancouver Island. I was on an outdoor adventure in an old growth forest, and I mean really old; hundreds of years old. I photographed a giant Cedar, about 8 feet in diameter, with a young Cedar sapling growing in front at the base of the old tree. I titled the shot New Growth Springs From Old Growth.
---