Here is a full view of the magnificently frozen Zapata Falls, near Great Sand Dunes National Park in the San Luis Valley of Colorado.
I wish there were a way a photograph could do justice to how splendid this sight was. (more…)
---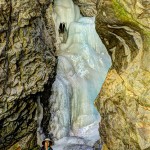 Zapata Falls are a spectacular attraction located in Colorado's San Luis Valley nearby Great Sand Dunes National Park. This photo was taken on a side trip; I was merely planning on killing time waiting for the harsh mid-day sun to ease to late-day light, which is ideal for photographing the contrasts amidst the Dunes. Little did I know how spectacular Zapata Falls is itself, especially in this frozen solid ice sculpture state!
Zapata Falls are located south of the Great Sand Dunes National Park Visitor Center, about 8 miles down Highway 150 (more…)
---