Kiah's Two Year Anniversary as My Best Friend and Photo Assistant Doggie!
Today is the two year anniversary of the day I rescued my dog, Kiah, on March 25, 2010. Kiah is a Blue Heeler (Australian Cattle Dog) I was lucky enough to adopt, and she's become my best friend and Photo Assistant Doggie…
She wasn't known as Kiah when I got her, she was known as Q-Tip, but I renamed her Kiah (pronounced with a long "i", not like the cars). She was a very fearful rescue dog who came to me when she was just over a year old, via two animal shelters, after being found as a stray in Kansas. Thankfully, she was transferred to Boulder by a shelter in Kansas, because there is greater success finding homes for rescue dogs in Boulder. The Humane Society of Boulder worked lovingly to socialize her to help her start to overcome her fears from living so long as a stray. Then two years ago today, they happened to list her for adoption on the very day I decided I couldn't live another day without a dog. Serendipity crossed her path with mine, because it was not just any dog who crossed my path that day, but a Blue Heeler, the breed I wanted more than anything. It has been unconditional love ever since!
This is the first photograph I ever took of Kiah, the evening I brought her home. She was sleeping like a baby in her brand new bed, using a stuffed bunny as a pillow. This was such a sweet moment for me. After having been warned how fearful and anxious this dog was from her life as a stray, it was a joy to see her settle in, finally somehow knowing that she was safe and she could relax. She was so tired from the move, she slept for hours. This was a good thing because she was still quite fearful, and not the least of her fears were cameras, so her first home portrait was taken while she was napping. Actually, these first photos were taken with an old cell phone so as not to freak her out too much with a bigger camera. There would be plenty of time later to get her warmed up to the idea of being my Photo Assistant Doggie!
The second photo I took of her that day still makes me laugh out loud every time I look at it. While all cattle dogs have pretty big ears, this dog was so small and skinny from her life on the road as a stray that her ears seemed gigantic. The great news was, she was not only awake from her nap, but had her ears up, not folded back the way she would fearfully try to escape every tiniest noise she heard. She even willingly posed for this photo. Looking at it, I quickly decided it was obvious why somewhere along the road, she was named Q-Tip because it was impossible not to think, "Boy, it'd sure be easy to get a Q-Tip in those ears!" 😉
I couldn't live with that name though; I wanted a much more unique name and hopefully something Australian. So I did a Google search for popular names for Australian Cattle Dogs. Kiah came up as the #1 name for female Australian Cattle Dogs. It is Aboriginal for "From the Beautiful Place." While she'll always be Kiah to me, it is funny that to this day, if you ask her, "Who's Q-Tip?" she perks up those ears and gets a look like she might be remembering a previous life and special people who were kind to her in the shelter.
It was far too long in coming for me to get a dog; in fact if you'd asked me even a few years ago if I'd own a dog, I'd have said, "No way, my lifestyle is just too busy." Still, loving dogs as much as I have my entire life, I was tempted and knew if I adopted a dog, she'd become my best friend and adventure buddy. However, the last thing I imagined was ending up with a dog that is also faithfully willing to be my Photo Test Doggie and Photo Assistant! Had I realized this, I might have adopted a dog sooner.
My resolve that a dog would be too much responsibility started to melt when I fell in love with a little Blue Heeler (Australian Cattle Dog) puppy hiking with his owner out near Crested Butte, CO in Summer of 2009. I decided if I ever did have a dog, I'd like that breed. Aside from being adorable, like all good herders, that Blue Heeler puppy faithfully followed (herded) his owner every step of the trail. That was the kind of dog I could picture fitting into my lifestyle. Here is a hastily captured photo of that cute puppy "Heeling" his owner along the trail. This is the little dog that blew away my resistance and made me yearn for a Blue Heeler of my own.
I knew I couldn't handle raising a puppy though and considered it unlikely I'd find such a popular breed available for adoption as an older and house trained dog. Well, fate was on my side, because months later, and two years ago today, Boulder Humane Society miraculously listed on their website "Q-Tip," a one-year-old Blue Heeler, described as a "fearful but very sweet" dog who needed tender loving care in the right home. I say miraculous because she was not on the site earlier that afternoon, nor did I see any other dogs I thought were right for me. But it was the first day of my Spring Break from teaching and I had my heart set on adopting a dog over my vacation. So I checked their website one more time around 4:00 PM and there she was, a brand new listing. I was hesitant when I read about her fears and anxiety, but she was just so cute in the website photo, and she was, of all breeds, a Blue Heeler! I drove across town to see her and the second I laid eyes on her, I knew there was no chance I was walking out of that shelter without taking her home. The rest is the history she and I began creating as our life together started.
Kiah responded so well to a loving home that she worked through much of her fearfulness very quickly. Okay, she's still terrified of thunder; I don't think she's ever going to get over that one. But she loves people and she's learned to enjoy the company of other dogs, if they aren't too aggressive, and she's learned that the TV can't hurt her.
Importantly, since I'm a photographer, Kiah has also learned that cameras and even strobe flash units won't harm her and over time, she became my initially reluctant and eventually willing "Photo Test Doggie" and even "Flash Test Doggie." The shot to the left was one of her first reluctant poses for a photo shoot with an actual camera. I have always loved this photo of her.
By summer, Kiah learned that not only are cameras okay, but camping is pretty darned fun too! We went on our first weekend of camping together. She'd come so far that while she still was afraid of thunder, she'd realized she'd be fine if she hunkered down in the tent with her "Security Skunky" like in the photo below. Although silly me not to predict that to a "fearful dog" the crackling of a fire sounds like the firecrackers she just agonizingly got past over the 4th of July. Good news is she sure didn't mind getting a bit of my hot dogs roasted over that open fire and eventually she even came over near the fire with me.
She was exceptionally good all weekend, staying right beside me while I spent hours taking landscape photographs. She really was the faithful adventure buddy dog I'd dreamed of. And go figure, strangely, unlike thunder, the sound of a train passing nearby thrilled her like there was no tomorrow! It became a ritual I fondly remember as the "Waiting for a Train" game the entire weekend of this camping trip.
By the way, to any concerned about seeing Kiah off-leash in any of these photographs, know that she is amazingly smart and obedient. Somehow, especially in the backcountry, even in settings like the photo near the train tracks in the mountains, Kiah faithfully follows my voice and sight commands 100%. Maybe part of it is that the remnants of being a "fearful" dog make her too cautious to stray from me. Mostly though, I believe it's just that she truly is a Heeler in every sense of the word. These dogs are born to herd, and I am Kiah's herd!
A change of seasons brought more growth for Kiah and me. Christmas 2010 was an interesting opportunity to practice pet portraiture with incandescent lighting in the form of Christmas lights. Kiah was very happy to lie underneath our little "Elf Christmas Tree."  The challenge was, every time I got down on the floor to take the picture from the correct point-of-view, she thought I was calling her over and would run over and lick me (or the camera)! My son, who was visiting for Christmas that year, actually bet me a million dollars that there was no chance I'd get this photo. I really hope he's close to figuring out how he'll earn that million, because here it is, only the cutest "Twas the Night Before Christmas" pet portrait ever. Okay, I may be a bit biased, and yes, the color and white balance are off, but seriously, this is adorable! And yes, she really does cross her paws like that naturally…
Once Kiah got used to having her photograph taken, it was time to venture into a new realm, because I'd just bought my first Canon Speedlight, and naturally, I needed a Flash Test Doggie. Let me tell you, this did not go over very well at first. Here is one of her first reluctant poses with me trying out my Speedlight. The look on this face says, "Okay, but only if I can have my bunny here and don't expect me to act happy about it." But, OMG, she is darling, is she not? And the TTL flash settings worked great!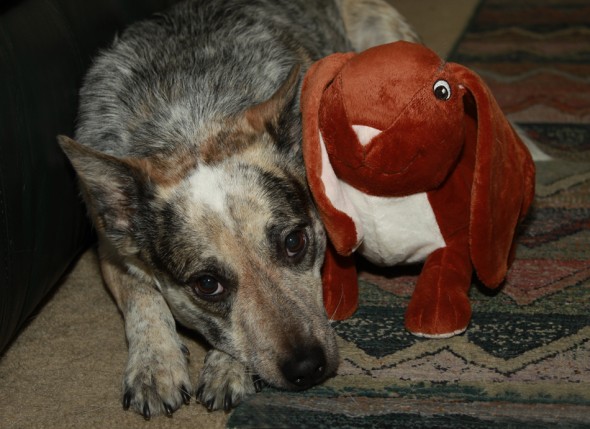 Kiah's First Reluctant Pose as Flash Test Doggie
Now, if I thought just a Speedlight was a challenge to get Kiah used to, the real challenge came when I started practicing with a Speedlight mounted on a light stand with an umbrella diffuser as a light modifier. That went over well (NOT)! But by this time, Kiah had learned that every willing session as Flash Test Doggie earns really special treats afterward! I love the soft diffused lighting in this test shot of Kiah. I was also pleased that I achieved the absence of a background shadow, giving me confidence to begin taking portraits of people.
Better still, I added a second Speedlight and a Lumiquest Softbox III to my practice sessions. Who better to test them out on before embarrassing myself in front of clients with gear I haven't tested out yet? Needless to say, the multi-light stand umbrella and softbox sessions took lots of extra special treats, especially since I wanted to begin using off-camera lighting in outdoor portrait settings. I not only had to convince Kiah not to be afraid of the gear, but not to run off after a squirrel. The pet portrait below was taken just at dusk, using one Speedlight with an umbrella diffuser as the key light and a second Speedlight with the Lumiquest Softbox III for fill light. While this was early in my learning curve of using off-camera strobe lighting outdoors, I was still happy with this as an early attempt. What's more, I was very impressed that Kiah not only wasn't afraid, but she also didn't run away, instead dutifully posing patiently, again with her signature crossed paws pose. She is the best Flash Test Doggie ever!
Lest anyone think that Kiah's life is all work and no play, don't worry for a minute. During all these months of her being a great Photo Assistant, I discovered that not only is Kiah a faithful PhotoTest Doggie, but she really has become that faithful "Heeler" like the puppy I'd seen hiking in Crested Butte back in 2009. She'll stay with me and follow me anywhere in the backcountry. So throughout this time, we went on lots of day hikes and she was in heaven! Here is one of my favorite photos of her from one of our day hikes, an image processed with Photomatix Pro HDR using the Painterly effect. The result makes the scene look as surreal as I remember it. This is Kiah in her true glory, exploring in the backcountry!
Kiah got so great at being a backcounty adventure buddy that we began backpacking together in September 2011. She got her very own "Outward Hound" doggie backpack and carried her own food, bedding, and treats out into James Peak Wilderness for a two night adventure with me. She was so charming the entire trip, I could hardly stand it! Here is a shot a passerby took of the two of us together with my point-and-shoot camera.
Speaking of a cuteness factor of epic proportions, I will forever treasure this photo of Kiah sleeping in our tent the second night of that backpacking trip. She is curled up with her toy "Rocky Raccoon" which she packed in herself, along with her bedding. No question, I got my faithful outdoor adventure buddy, and a precious buddy at that!
As Winter came, no need for the fun to end. Kiah discovered that she loves winter in the backcountry too. My "Heeler" truly will follow me anywhere, anytime, especially since she has a fondness for eating snow! We recently went on a cross country ski trip where I was testing out a new Lowepro adventure photography pack I got so I could start carrying pro camera gear on backcountry day trips. Kiah not only kept up even in the snow, she truly was a photo assistant on that trip. Okay, she can't stand there holding a Speedlight with a Lumiquest Softbox, however, she can carry a Speedlight, plus both of our lunches in her "Outward Hound" backpack! This is just one photo from that trip. More to follow soon in my review of the Lowepro Photo Sport 200 AW Photo Pack.
Today, as I celebrate two years of having Kiah in my life, it is hard to imagine how I ever lived without her!
No, not just because she is more tolerant a Photo Test and Flash Test subject than any human I know would ever be. But I truly have gained an adventure buddy, a photography assistant, and most of all, the best friend I've ever had! What they say about dogs loving unconditionally is absolutely true.
Stay tuned for more adventures with Kiah, As Seen by Janine. 🙂