Great Sand Dunes National Park in Colorado
Some things you just have to discover in your own due time. It took me twelve years of living in Colorado to visit and photograph Great Sand Dunes National Park. This weekend I discovered what I've been missing, including shots like this of the infamous Star Dune, nobly framed by the Sangre de Cristo Mountain range in the background: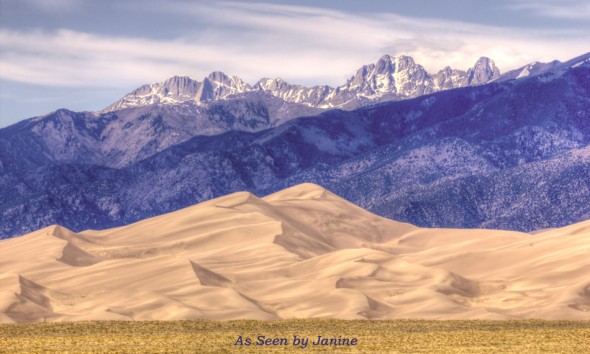 Star Dune in Great Sand Dunes National Park framed by the Sangre de Cristo Mountains
Silly me to have assumed that sand dunes in the middle of, hello, a landlocked state couldn't be all that impressive…  I mean, the biggest dunes I've seen in my life border the southern tip of Lake Michigan, one of the Great Lakes, and all the other dunes I've seen were beside oceans. So, given our absence of significant bodies of water here, it was hard for me not to assume Colorado's dunes didn't truly qualify as "Great Dunes."
Okay, here's my humble admission of being way beyond making a silly assumption and crossing over the line into truly not thinking. I mean, all I would have had to consider to overcome my erroneous assumption is the absence of any large bodies of water anywhere but at the very edges of the vast dunes of the Sahara. Clearly, all that sand comes from something besides the water [duh, she sheepishly admits].
In Colorado's case, most of the dunes' sand actually came from the mountains which tower over them. If you have ever felt Colorado winds blow near the mountains, you'll understand how that much sand could actually be eroded from the rock into dunes. Not to mention that when I felt intense winds sweep all that sand up, swirl it around, and whip it right back into the face of the mountains throughout this weekend, I could see the process will keep on eroding more dunes. They are "Great Dunes" indeed and they aren't going anywhere anytime soon.
Now that I've seen the magnificence of Colorado's Great Sand Dunes, easily taking over 250 photographs of them in  under 24 hours, all I can think is, what the heck was I waiting for?!?!? They truly are spectacular and I foresee many great finished photos in both color as well as stunning black and whites to come out of my RAW images from this weekend. I also am certain that my first visit to Great Sand Dunes National Park will be far from my last visit – I already can't wait to return! Took me twelve years to get there, but mark my words, I'll go back in less than twelve months!
More photos from this visit to the Dunes soon. Stay tuned.
Meanwhile check out other popular posts in the right sidebar.
As Seen by Janine: Eyes of the World Images